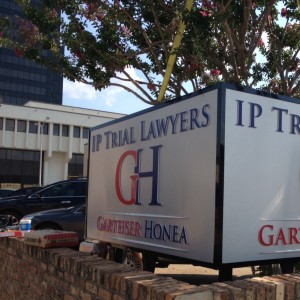 (Sunday, June 9, 2013 – Tyler, TX): Garteiser Honea announces the opening of its Tyler, TX office. The San Francisco Bay firm is pleased to expand its top-notch intellectual property and business legal services to the Texas market. Although the firm currently litigates a number of cases in Texas, it believes that an office in Tyler will only strengthen its ability to provide clients with high quality results.
Both Randall Garteiser and Christopher Honea, the firm's named partners, have roots in Texas and are excited to return. Mr. Garteiser graduated with honors from the University of Texas School of Law in Austin, worked as a Chevron engineer in Kingwood, and returns often to visit family in the area. Mr. Honea, an electrical engineer and former McKool Smith attorney, was born in Texas where members of his family remain. When Mr. Honea was asked about why the firm chose Tyler instead of Dallas or Austin, he replied, "No reason to be in Dallas when the majority of patent litigation takes place in the Eastern District of Texas, and in particular the courthouse next door to our office in Tyler."
Mr. Garteiser and Mr. Honea have a rich history in patent infringement litigation, both cutting their teeth at Quinn Emanuel's Silicon Valley office. After years of assisting big companies with their patent litigation needs, Mr. Garteiser eventually left to start his own office in the San Francisco Bay area. "Start-ups needed quality IP litigation representation but simply could not afford to pay Big Firm retainers," he said. He quickly enlisted the help of Mr. Honea, and the two grew their firm in the Bay Area intellectual property hub.
Now Garteiser Honea is excited to establish a permanent presence in Tyler, bringing to the area the firm's wealth of knowledge in intellectual property litigation, including experience in the fields of software, electronics, oil and gas, and life sciences. One of the firm's largest local clients, Blue Spike LLC, has secured more than 80 patents for its inventions and is currently asserting a number of them in Texas. Ongoing litigation pits Garteiser Honea against a who's-who of patent litigation firms as well as Fortune 500 companies. "We wouldn't want it any other way," said Mr. Garteiser.