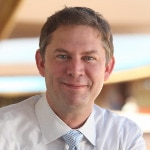 Randall Garteiser
Partner
phone: (415) 785-3762 | fax: (415) 785-3805
email: rgarteiser@ghiplaw.com
Randall Garteiser is a trial attorney. Mr. Garteiser previously litigated cases at the trial firm of Quinn Emanuel in its Silicon Valley Office, voted one of the "Most Feared Plaintiff's Firms" by Law360. Clients comment that Mr. Garteiser is "very reasonable" in their defense, which can lead to a quick resolution of disputes. He has recently handled disputes for clients such as Cypress Lake Software (Smartphones, Tablets, Chromebooks); ChemFoundry (dielectric fluids); Razdog (website interoperability with guest); and Blue Spike (software). He also provides outside general counsel to clients, such as iShopUSA, who do not want to commit to employing a full-time attorney but require a responsive counsel to assist them in handling IP litigation issues, employment issues, and IP deal terms on a moment's notice.
Mr. Garteiser is intimately familiar with the court system and confidently presents cases to judges and juries. Previously, he clerked for the Honorable James Ware in the United States District Court for the Northern District of California, a former Chief Judge of that District. Like other attorneys at Garteiser Honea, one of his best attributes is his ability to distill complicated technology to a fact finder (either a judge or jury). He served as an Officer (Captain) in the U.S. Army after the September 11, 2001 terrorist attacks. He has courtroom presence that comes from being in much more difficult situations.
Education and Experience:
He graduated with honors from the top ranked University of Texas School of Law in Austin, Texas in 2002, where he excelled in Trial Advocacy courses. Mr. Garteiser graduated summa cum laude with a bachelor of science degree in Chemical Engineering in 1995 from Tulane University. He worked as a Process Engineer at Chevron Chemical before attending law school. He is licensed to practice law in California and Texas.
Admitted to the following courts:
The United States Supreme Court.
U.S. Court of Appeals for the Federal Circuit.
U.S. Court of International Trade (ITC)
U.S. Court of Federal Claims.
U.S. District Court for the Eastern District of Texas.
U.S. District Court for the Northern District of California (former Law Clerk in this District).
U.S. District Court for the Central District of California.
U.S. District Court for the Southern District of California.
Supreme Court of California.
Supreme Court of Texas.
Representative Matters:
Randall Garteiser's list of litigation matters is available under the "Victories" tab.