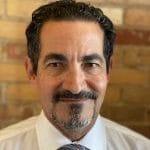 René Vazquez
Partner
phone: (415) 785-3762 | fax: (415) 785-3805
email: rvazquez@ghiplaw.com
René Vazquez has a broad range of Intellectual Property law experience in the areas of patent prosecution, patent litigation/assertion, Ex Parte and Inter Partes reexaminations, post-grant patent procedures and general intellectual property counseling. Mr. Vazquez has represented clients in over 20 post-grant proceedings (including 19 Inter Partes Reviews) before the Patent Trial & Appeal Board (PTAB). In an appeal to the PTAB involving an Inter Partes Reexamination, he was successful in reversing 5 grounds of rejection that were adopted by the Patent Examiner. He has extensive experience assisting companies in the development of their IP portfolios and in the formulation of strategies for leveraging IP assets, including patent assertion/licensing campaigns. Mr. Vazquez has experience in the areas of telecommunications, optical communication systems, secure quantum communication systems, video-on-demand systems, information distribution systems for digital networks, computer software, cloud-based systems for detecting cyber threats, cloud-based context-aware intrusion detection systems, computer networking systems and devices, authentication and encryption systems, flow-based systems for detection of cyber-attacks, semiconductor fabrication, medical devices, physiological simulation devices, bioreactor systems, electro-optics, imaging systems, fiber optics, liquid crystal displays, micro-electro-mechanical devices, fuel cells, neural networks and others.
Education and Experience
Prior to starting his legal career, Mr. Vazquez accumulated seven years of industry experience in nonlinear optics, including material studies of photorefractive, organic and Kerr nonlinear media, while employed as a Senior Technical Associate at Rockwell International Science Center (now Teledyne Scientific and Imaging). During an internship at Los Alamos National Laboratory, he developed computer codes for plasma simulations. He is also a co-inventor of a patented system for achieving polarization-independent energy exchange between optical beams (U.S. Patent No. 5,170,268), and is the co-author of five peer-reviewed scientific articles in the area of nonlinear optics. René attended the U.S. Air Force Academy from 1982 to 1983 and graduated in 1986 from Millsaps College in Jackson, MS with a B.S. in Physics. In 1995, René earned his J.D. from Whittier College School of Law. While in law school, René served as Lead Articles Editor for the Whittier Law Review.
Admitted to the following courts:
U.S. Court of Appeals for the Federal Circuit
U.S. District Court for the Eastern District of Michigan
U.S. District Court for the Eastern District of Texas
Supreme Court of Virginia
Registered to practice before the U.S. Patent and Trademark Office