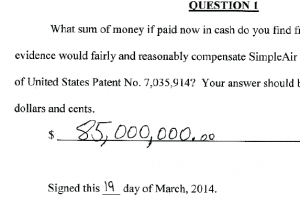 (Marshall, Texas – Wednesday, March 19, 2014) – In SimpleAir, Inc. v. Microsoft Corp., et al., 2:13-cv-416-JRG, an East Texas jury entered a damages verdict against Google Inc. for $85,000,000 for patent infringement. Many of the defendants, including Microsoft, chose to settle. Google, however, proceeded to trial, and on January 18, 2014 an East Texas jury entered a verdict against Google finding that it infringed two patents (7,035,914 and 6,021,433) and that the two patents were valid. That jury could not reach a determination on the issue of damages; Google moved for a new trial on all three issues. The Honorable Judge Rodney Gilstrap denied Google's motion and set dates for jury selection and trial on just the issue of damages. The damages jury was selected on Monday, March 17 and, on Wednesday, March 19, the jury entered its verdict against Google in the amount of $85,000,000. Verdict Against Google, Dkt. 718
Counsel for SimpleAir, Inc.:
Gregory Scott Dovel, Julien Antonio Adams, Richard Elgar Lyon, III, Simon Carlo Franzini, and John Jeffrey Eichmann of Dovel & Luner out of Santa Monica, California; and Daymon Jeffrey Rambin, Sidney Calvin Capshaw, III, and Local Counsel Elizabeth L. (Betty) DeRieux of Capshaw DeRieux LLP from Gladewater, Texas.
Counsel for Google Inc.:
Alton Absher , III, E. Danielle Thompson Williams, Mitchell G. Stockwell, Russell A. Korn, and Scott Edward Kolassa of Kilpatrick Townsend & Stockton, LLP's Menlo Park and Atlanta Offices; with Local Counsel Jennifer Parker Ainsworth of Wilson Robertson & Cornelius, PC from Tyler, Texas.