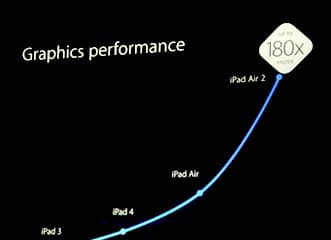 (Tyler, Texas – Monday, October 12, 2015, Columbus Day)  A federal jury decided that Apple's iPhones and iPads infringe on a University of Wisconsin Alumni Research Foundation patent, central to the devices' A7, A8, and A8X processors.  Judge William M. Conley said that Apple's licensing fees and other damages could total as much as 862 million dollars.
Apple's stock has fallen close to 2% since the announcement.  Overall AAPL has fallen 18% in the last 3 months.
This patent, titled "Table based data speculation circuit for parallel processing computer," was found valid by a federal jury in a trial lasting only a week.  Apple had previously tried to convince the USPTO that the patents should be invalidated, an appeal that was rejected in April.
Damages will be decided in the next stage of the trial, immediately followed by a ruling on whether Apple's patent infringement was willful.  If so, the damages total could increase even further.
The A7, A8 and A8X processors correspond to the 2013-2014 lineup of iPhones and iPads, including the popular iPhone 5S and iPhone 6, as well as the iPad Minis.
The Wisconsin Alumni Research Foundation has filed an updated, but separate, case accusing the 2014 and 2015 models, which use A9 and A9X processors, of infringing the same patent.  These models include the iPhone 6S, 6S Plus, and iPad Pro.
The case is Wisconsin Alumni Research Foundation vs. Apple Inc. in the Western District of Wisconsin, case no. 3:14-cv-00062-WMC.
Wisconsin University was represented by Alan J. Heinrich, Gary N. Frischling, Jason G. Sheasby, Morgan Chu, Amy Elizabeth Proctor, Anthony Quay Rowles, Brian P. Eggleston, Christopher T. Abernethy, Hong Annita Zhong, and Jackson S. Trugman from Irell & Manella LLP and Godfrey & Kahn S.C.'s Jennifer Lynn Gregor and Bryan J. Cahill. 
Apple was represented by WilmerHale's Mark D. Selwyn, Andrea J. W. Jeffries, Andrew J Danford, Bryan Scott Conley, David C. Marcus, David Peer, Derek Anthony Gosma, Gregory Paul Teran, James Murphy Dowd, Jordan Hirsch, Lauren B. Fletcher, Matthew James Hawkinson, Michael Pieja, Michael Silhasek, Richard Goldenberg, and William F. Lee; and Catherine Cetrangolo from Cetra Law.