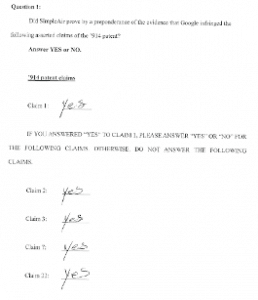 (Marshall, Texas – Tuesday, January 18, 2014) Earlier today, a jury returned a verdict against Google Inc. for patent infringement in SimpleAir, Inc. v. Microsoft Corp., et al., 2:11-cv-416-JRG. SimpleAir commenced this action on September 15, 2011 for infringement of two patents: 7,035,914 and 6,021,433 both titled "System and Method for Transmission of Data." Initially, Microsoft and Google were both parties to this action; Microsoft settled with SimpleAir and entered into a licensing agreement on November 25, 2013; Google chose to proceed to trial. The jury of eight East Texas residents unanimously found that Google infringed the patents-in-suit and that the patent was valid. See Jury Verdict Form.
However, the jury could not reach a decision on the amount of damages.  Id. at 4.  This may result in a separate trial on damages only, unless the parties can reach a resolution.  At the outset of patent litigation, Defendants often request bifurcation of the issues of infringement/invalidity and damages. However, bifurcation can result in a larger verdict for the patent holder against the affirmed infringing defendant, in this case, Google.
Counsel for SimpleAir, Inc.:
Gregory Scott Dovel, Julien Antonio Adams, Richard Elgar Lyon , III, Simon Carlo Franzini, and John Jeffrey Eichmann of Dovel & Luner out of Santa Monica, California; and Daymon Jeffrey Rambin, Sidney Calvin Capshaw , III, and Local Counsel Elizabeth L. (Betty) DeRieux of Capshaw DeRieux LLP from Gladewater, Texas.
Counsel for Google Inc.:
Alton Absher , III, E. Danielle Thompson Williams, Mitchell G Stockwell , Russell A Korn, and Scott Edward Kolassa of Kilpatrick Townsend & Stockton, LLP's Menlo Park and Atlanta Offices; with Local Counsel Jennifer Parker Ainsworth of Wilson Robertson & Cornelius, PC from Tyler, Texas.